Carpet Cleaning Christchurch
Kimmie Kare can provide a choice of carpet cleaning methods. We can provide completely chemical free steam cleaning leaving your carpets dry within minutes. We also offer a wide choice of other cleaning methods.
Dry Steam Cleaning
Drying time can always be a problem when it come to wet cleaning, the advanced duplex steam cleaning machines eliminates this problem. Running at 120 degrees, the heat kills dust mites, flea larvae and any bacteria on your carpets.This system leaves your carpet dry within a half an hour.
The system can be used completely chemical free - perfect for newborns, allergy sufferers, compromised immune systems, family pets and those who prefer to clean their carpets without damaging the environment.The system acts as an all-in-one floor scrubber / washer / dryer and steam cleaner, it removes pet hairs effortlessly and is recommended for Flotex carpeting.
Hot Water Extraction
We do not use any chemicals through our machines as detergent residue will leave molecules on your carpet,making it sticky and attracting,more-dirt brought inside with normal foot traffic all carpets are vacuumed,treated with special cleaning agents paying attention to any specialist stain treatments that maybe required,then these chemicals are extracted using our machines with super heated water and hyper suction. We then put a free deodorising treatment on your carpet. This process leaves your carpets cleaner and fresher for longer.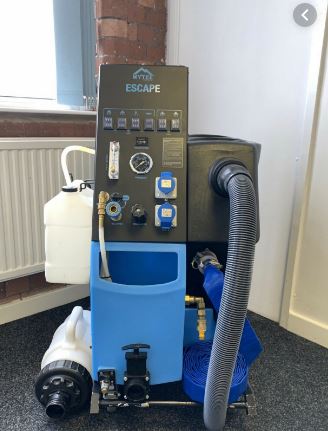 Electric Truck Mount